Order Your Kobo eReader Today !
Latest & the Greatest - All New Kobo eReader:
Kobo Glo: HK$1,180 Now
Kobo Mini: Just HK$750

International Shipping (Detail)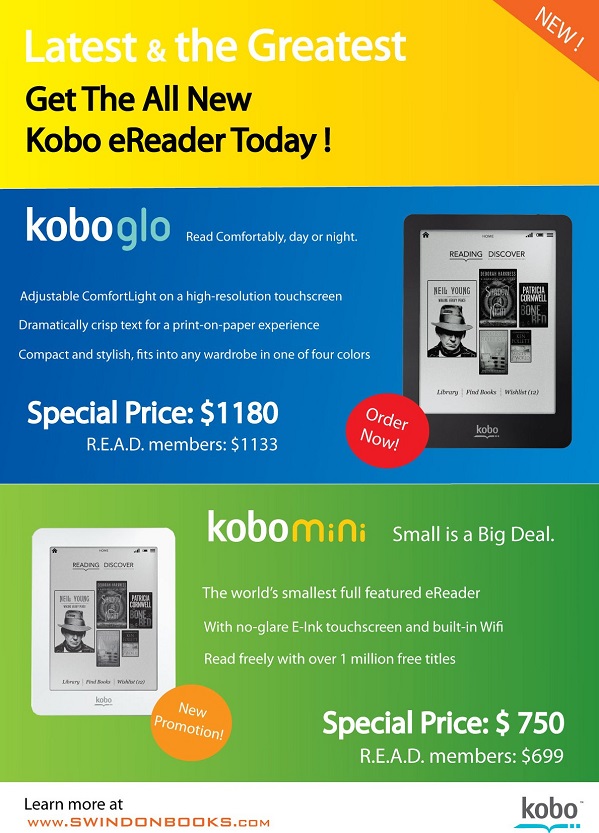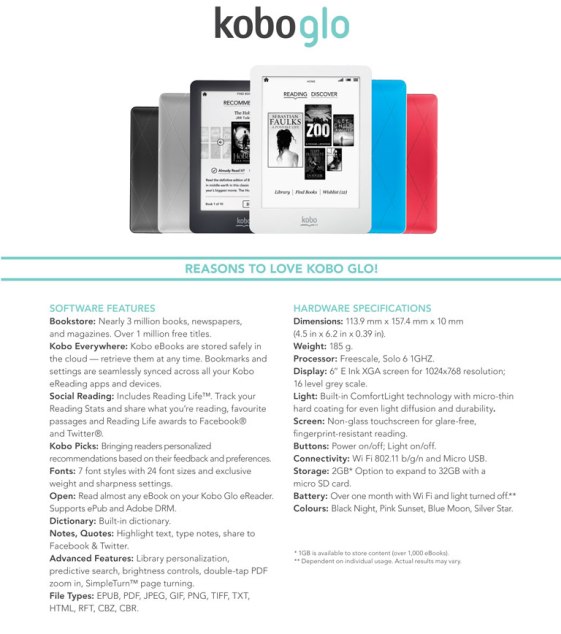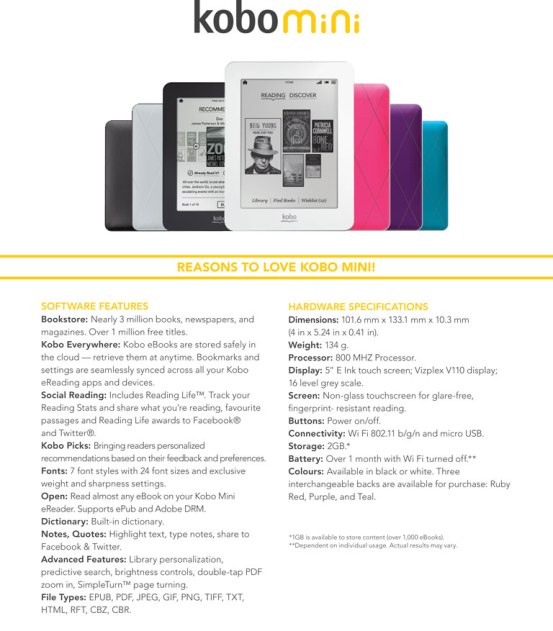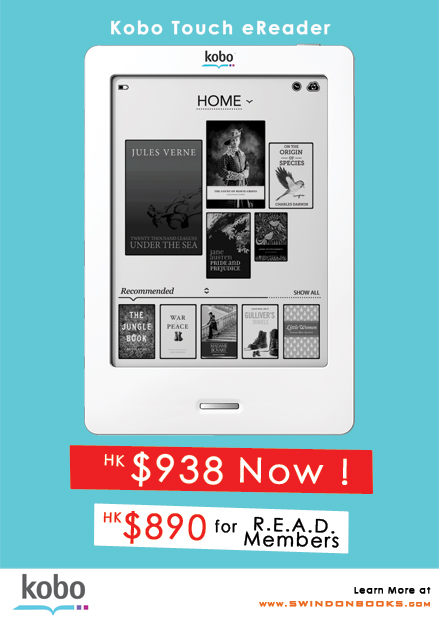 Introducing
The all-new Kobo Vox eReader
Kobo Vox eReader Limited Offer: HK$1,288 Now
Shop one of the world biggest eBook stores
♦ Access the Kobo eBook store of 2.5 million books, including more than 1 million free; browse bestsellers, new releases, award winners, classics and more
Read in vivid color, anywhere
♦ Read your books in vivid color on a 7" multi-touch, multi-media screen that has been designed with outdoor reading in mind
♦ Experience the joy of reading in color: cookbooks, travel guides, children's books, magazines and newspapers all come beautifully to life on Kobo Vox
♦ Enjoy your Kobo eBook on any device—download free Kobo apps for PCs, Macs, iPhone® , iPad®, and Android™ and Blackberry® smartphones and tablets
Explore the Android 2.3 Gingerbread
♦ Surf the web, send emails, browse Facebook® and more—with open access to Android 2.3 and 15,000 free apps, Kobo Vox lets you do much more than just read
♦ Enjoy your music and video files on your Kobo Vox, listen to streaming music on pre-loaded RDIO® app and find hot entertainment apps in the app store
Join the conversation
♦ Enter the world of social reading with Reading Life: share what you're reading, comment on favorite books and passages and find others reading the same books with Kobo Pulse™
The Kobo eReader Touch
Amazing New Touch Experience
♦ Just like reading a book with Real Touch™!
♦ Modern design, lightweight, and travel friendly design.
♦ Browse and buy on the go with Wi Fi.
New & Improved Features
Super-fast page turns
♦ Enhanced power management
♦ Expandable storage for up to 30,000 books makes the Kobo eReader Touch a reading lover's dream!
Beautiful Design
♦ Our signature soft-quilted back and travel friendly size offer the ultimate in a comfortable reading experience.
♦ Finding your next read is quick and easy with our simple and intuitive touch navigation - we've taken the buttons out of the way, so you can focus on reading.
Single Home Button
♦ With our new touch experience, we've eliminated the clutter so you can focus on Reading.
♦ The Kobo Touch eReader has just one button, making navigation easy. Books don't have keyboards – neither should your eReader.
Reads like Print on Paper
♦ The latest in eInk technology, the new 6" Pearl screen offers a superb reading experience, even in bright sunlight.
---
KOBO Touch
---
Accessories
| | | | | | |
| --- | --- | --- | --- | --- | --- |
| | | | | | |
| Book Style (Black) | Book Style (Red) | Top Load (Black) | Top Load (Red) | Gel Case (Black) | Gel Case (Clear) |
---
Features:
♦ Faster Processor
♦ Touch Interface (Infrared)
♦ 16 shades of Grey Panel, Pearl Screen
♦ Micro USB
♦ Micro SD
♦ Size: 165mm x 114mm
♦ Depth: 10mm (0.4 in)
♦ Weight: 185g (6.5 oz.)
♦ Compared to Kobo 2 : 184.2mm x 120mm x 9.74mm, 221g
Quotes and Reviews
Wired Magazine's 2012 Editor's Pick for Best eReader
"The most natural e-ink reader we've ever used."
~ Wired Magazine
Kobo Touch is "handsome and comfortable", "fastest and most responsive".
~ Wired Magazine
" …B&N is now effectively a bridesmaid at Kobo's wedding - a bridesmaid who just realized that her own wedding in two weeks is probably not going to be as impressive…"
~ iReaderReview.com
" …The Kobo eReader Touch Edition makes massive ultra-modern leaps…"
~ Huffington Post
" …Kobo's new e-device looks like it could be a real contender, especially among those looking for a lightweight, user-friendly device…"
~ Computerworld
" …This Kobo eReader Touch does have the look of a winner: there's a 6-inch Pearl E-Ink screen that uses Neonode's zForce infrared touch technology to let you navigate it as a touchscreen. I'm looking at the silly buttons on my Kindle in shame…"
~ Gizmodo
" …Kobo has added a touch screen to its popular eReader, and the result makes the Kindle look like a throwback to the days of the Psion Organizer.... All in all, the new Kobo eReader Touch Edition looks sweet, and ties in with Kobo's free apps for pretty much every phone and tablet out there. It is also a bargain…"
~ Wired Gadget Blog